Terms and Conditions
Last updated: September 26, 2022
THESE TERMS AND CONDITIONS CONTAIN A BINDING ARBITRATION CLAUSE AND CLASS ACTION WAIVER THAT IMPACT YOUR RIGHTS ABOUT HOW TO RESOLVE DISPUTES. IF YOU LIVE IN THE UNITED STATES, PLEASE READ IT CAREFULLY. You can decline the agreement to arbitrate by contacting us and submitting an opt out request within 30 days of first accepting these Terms.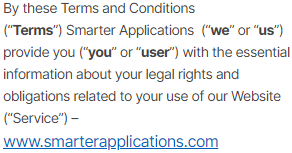 Please read the Terms carefully before using the Website. If you disagree with these Terms, please do not use the Website.
Your access to and use of the Service is also conditioned on your acceptance of and compliance with our Privacy Policy (found here). Our Privacy Policy describes our policies and procedures on the collection, use and disclosure of your personal information when you use the Service and tells you about your privacy rights and how the law protects you. Please read our Privacy Policy carefully before using the Service.
If you have any questions or comments about these Terms, please contact Us.
Acknowledgment
These Terms and any operating rules and policies posted on our Website, including the Privacy Notice, constitute the entire agreement and understanding between us and you, governing your access to and use of the Service. Your access to and use of the Service is conditioned on your acceptance of and compliance with these Terms. These Terms apply to all visitors, users and others who access or use the Service.
By your use of the Service, you declare and warrant that:
you have read, understood, and agree to be legally bound by and to comply with these Terms in full;

you are over the age of 18;

according to your local jurisdiction, you are eligible to enter into this agreement and have no restriction to use the Service;

you are not located in a state that is subject to the United States government embargo, or that has been designated by the United States government as a "terrorist supporting" state, and you are not listed on any United States government list of prohibited or restricted persons;

you shall comply with these Terms and all applicable laws and regulations.
Service Description
The Service is able to provide users with feature-focused software programs that facilitate specific functionality and provide ease of access to information.
Our products may customize your browser's web search powered by our recommended search engine, subject to your express consent to allow you to continue using the free version of the app.
You can download the Apps for free by using the links on the respective Websites.
Content and Intellectual Property
All materials on our Service , including text, graphics, information, images, drawings, trademarks, logos, video, sounds, music, software, and other materials ("Content"), as well as copyright and other intellectual property rights to such Content belong to us or are subject to valid license from the owner.
The Content, or any elements thereof, may not be used in any manner not provided by these Terms without our or such owner's prior written consent.
You must not:
reproduce, publish, distribute, modify, create, or otherwise use the Content for commercial or illegal purposes without our prior written consent;

sell, lease, rent, license, sublicense or otherwise distribute the Content;

copy, decompile, disassemble, translate or reverse engineer the Content, in whole or in part;

write or develop any derivative software, make an attempt to derive the source code of, modify, or create derivative works of the Content;

provide, disclose, divulge or make available to, or permit the use of the Content by any third party without our prior written consent;

avoid, bypass, remove, deactivate, impair, descramble or otherwise circumvent any technological measures implemented to protect the Content.
You assign all rights, title and interest in any feedback you provide to us. If for any reason such assignment is ineffective, you agree to grant us a non-exclusive, perpetual, irrevocable, royalty free, worldwide right and license to use, reproduce, disclose, sub-license, distribute, modify and exploit such feedback without restriction.
Warranties and Disclaimers
The Service is provided to you "AS IS" and "AS AVAILABLE" and with all faults and defects without warranty of any kind. To the maximum extent permitted under applicable law, we, on our own behalf and on behalf of our suppliers and our and their respective licensors and service providers, expressly disclaim all warranties, whether express, implied, statutory or otherwise, with respect to the Service, including all implied warranties of merchantability, fitness for a particular purpose, title and non-infringement, and warranties that may arise out of course of dealing, course of performance, usage or trade practice. Without limiting the foregoing, neither we nor any of our providers make any representation or warranty of any kind, express or implied (i) that the Service will meet your requirements, achieve any intended results, be compatible or work with any other software, applications, systems or services, operate without interruption, meet any performance or reliability standards or be error free or that any errors or defects can or will be corrected; or (ii) that the Service, its servers, the content, or e-mails sent from us or on our behalf are free of viruses, scripts, trojan horses, worms, malware, timebombs or other harmful components.
The Service depends on or contains the links to other websites and services governed by third parties, that includes (but not limited to) Cloudflare, and Digital Ocean. We do not control the features available or accessed through such websites and services. We are not responsible for the Content and services offered through them, and for any losses, damages, or other liabilities incurred as a result of your use of such websites and services. You acknowledge that other terms of use and privacy notices apply to your use of third-party websites, services, and Content.
Some jurisdictions do not allow the exclusion of certain types of warranties or limitations on applicable statutory rights of a consumer, so some or all of the above exclusions and limitations may not apply to you. But in such a case the exclusions and limitations set forth in this section shall be applied to the greatest extent enforceable under applicable law.
Liability
Notwithstanding any damages that you might incur, the entire liability of us and any of our suppliers under any provision of these Terms and your exclusive remedy for all of the foregoing shall be limited to the amount actually paid by you through the Service or One Hundred U.S. Dollars ($100) if you haven't purchased anything through the Service.
To the maximum extent permitted by applicable law, in no event shall we or our suppliers be liable for any special, incidental, indirect, or consequential damages whatsoever (including, but not limited to, damages for loss of profits, loss of data or other information, for business interruption, for personal injury, loss of privacy arising out of or in any way related to the use of or inability to use the Service, third-party software and/or third-party hardware used with the Service, or otherwise in connection with any provision of this Terms), even if we or any supplier has been advised of the possibility of such damages and even if the remedy fails of its essential purpose.
Some states do not allow the exclusion of implied warranties or limitation of liability for incidental or consequential damages, which means that some of the above limitations may not apply. In these states, each party's liability will be limited to the greatest extent permitted by law.
Applicable Law and Arbitration
These Terms shall be exclusively governed by and construed under the laws of the State of New York.
Any dispute or claim relating in any way to your use of the Service, or to any products or services sold or distributed by us through the Service will be resolved by binding arbitration, rather than in court, except that you may assert claims in small claims court if your claims qualify. The Federal Arbitration Act and federal arbitration law apply to this agreement.
There is no judge or jury in arbitration, and court review of an arbitration award is limited. However, an arbitrator can award on an individual basis the same damages and relief as a court (including injunctive and declaratory relief for statutory damages) and must follow these Terms as a court would.
To begin an arbitration proceeding, you must send a letter requesting arbitration and describing your claim to our registered agent: Northwest Registered Agent Service, Inc., 522 W Riverside Ave Suite N, Spokane, WA 99201, United States. The arbitration will be conducted by the American Arbitration Association under its rules, including the AAA's Supplementary Procedures for Consumer-Related Disputes. The AAA's rules are available at www.adr.org or by calling 800-778-7879. Payment of all filing, administration and arbitrator fees will be governed by the AAA's rules. We will reimburse those fees for claims totaling less than $10,000 unless the arbitrator determines the claims are frivolous. Likewise, we will not seek attorney's fees and costs in arbitration unless the arbitrator determines the claims are frivolous. You may choose to have the arbitration conducted by telephone, based on written submissions, or in person in the county where you live or at another mutually agreed location.
We each agree that any dispute resolution proceedings will be conducted only on an individual basis and not in a class, consolidated or representative action. If for any reason a claim proceeds in court rather than in arbitration, we each waive any right to a jury trial. We also both agree that you or we may bring suit in court to enjoy an infringement or other misuse of intellectual property rights.
Termination
Termination by Us
We may terminate or suspend your access to the Service immediately, without prior notice or liability, for any reason whatsoever, including without limitation if you breach these Terms.
Upon termination, your right to use the Service will cease immediately.
We may cooperate with legal authorities and third parties to investigate any suspected or alleged crime or civil wrong.
Termination by You
You may terminate these Terms by no longer accessing or using the Website.
If you terminate your use of the Service, all permissions and licenses under these Terms will immediately terminate.
Electronic Notifications
By using the Service, you understand and agree that we may send you notifications regarding, without limitation:
your use of the Website;

updates of the Website and these Terms;
You can read more about personal data processing in our Privacy Notice.
Other Terms
We may transfer our rights and obligations under these Terms to a third party, but this will not affect your rights or our obligations.
At our sole discretion, we reserve the right to modify these Terms. If material changes affect your use of the Service, we will notify you by pop-up notification before such changes go into effect. Your continued use of the Service after such notice is provided shall constitute acceptance of the updated version of these Terms. If you disagree with the updated version of these Terms, please delete and no longer use or access the Website and App.
If any provision of these Terms is determined to be unlawful, void, or unenforceable, the remaining provisions of these Terms will continue to be fully valid and enforceable.
Except as provided herein, the failure to exercise a right or to require performance of an obligation under these Terms shall not affect a party's ability to exercise such right or require such performance at any time thereafter nor shall the waiver of a breach constitute a waiver of any subsequent breach.
If you are a U.S. federal government end user, the Service is a "Commercial Item" as that term is defined at 48 C.F.R. §2.101.
A printed version of these Terms shall be admissible in judicial or administrative proceedings based on or relating to your use of the Service to the same extent and subject to the same conditions as other business documents and records originally generated and maintained in printed form.
Questions and Contact Information
If you have any questions or comments about these Terms or the Service, please contact us at